Washington, D.C.
– On the second anniversary of the tragic helicopter crash that took the lives of three Minnesota National Guardsmen, Congressman Tom Emmer (MN-06) announced he will be introducing legislation to rename the Avon post office in honor of Army National Guard Warrant Officer Candidate Kort M. Plantenberg.

Representatives Jim Hagedorn (MN-01), Angie Craig (MN-02), Dean Phillips (MN-03), Betty McCollum (MN-04), Ilhan Omar (MN-05), Michelle Fischbach (MN-07), and Pete Stauber (MN-08) will be cosponsoring this legislation.

"Kort embodied the very best of Minnesota" Emmer said. "I am proud to honor his legacy by creating a living memorial to him in the community he called home."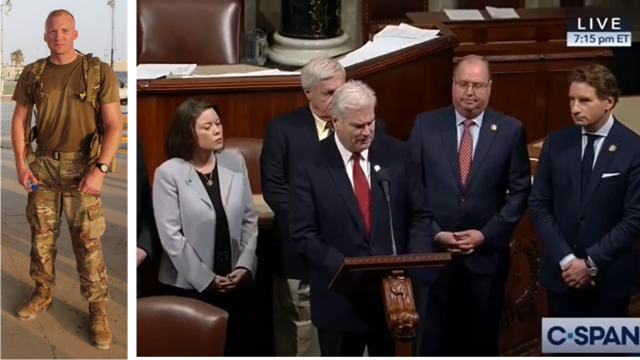 Left: Plantenberg in Kuwait, 2018 Right: Congressman Emmer honors the National Guardsmen, December 9, 2019
Warrant Officer Candidate Plantenberg enlisted in the Minnesota National Guard in 2016 as an aircraft electrician and served a nine-month deployment in Kuwait, where his unit provided aerial medical evacuation. Following his deployment, Plantenberg was hired as a federal technician UH60 mechanic at Army Aviation Support Facility #2 in St. Cloud.
Kort tragically lost his life alongside fellow Guardsman, Chief Warrant Officer 2 James A. Rogers Jr. and Chief Warrant Officer 2 Charles P. Nord when their helicopter experienced a mid-flight mechanical failure near St. Cloud. Plantenberg was born in St. Cloud in 1991 and raised in Avon. He was a graduate of Albany Area High School and the University of Minnesota –Duluth.

Congresswoman Michelle Fischbach (MN-07) will be introducing legislation to rename post offices in honor of Rogers and Nord, both from the Seventh Congressional District.

"When people enter military service, it's as if they gained another family," said Army Maj. Gen. Shawn Manke of the Minnesota National Guard. "Two years ago, the Minnesota National Guard lost three of its family members and together, with their families, we have mourned their loss. We realize no words can help ease the loss of Warrant Officer Candidate Plantenberg , but we hope the family finds some comfort with the renaming of the post office to help preserve Kort's legacy."
In 2019, Congressman Emmer joined colleagues from the Minnesota delegation to memorialize the fallen National Guardsman on the House floor. Watch here.
Read the bill here.
###