Washington, D.C. Office
In the Washington, D.C. office, internships run throughout the fall, spring or summer semesters for college students or recent graduates. Students are able to gain invaluable work experience while strengthening their writing, research, and communication skills. The hours are flexible to accommodate students' hectic course schedules. The typical day while interning full time is 9 AM to 6 PM. when Congress is in session, and 9:00 a.m. to 5:00 p.m. when out of session.
Congressional interns are a vital part of my office. Intern responsibilities include conducting research on current legislation, answering phones, attending hearings and briefings, and responding to constituents about their policy concerns. As a result, interns learn about the legislative process and the many other functions of a congressional office. This internship is a unique experience because of their involvement in the legislative process, the extensive networking opportunities, as well as being able to live and work in our nation's capital.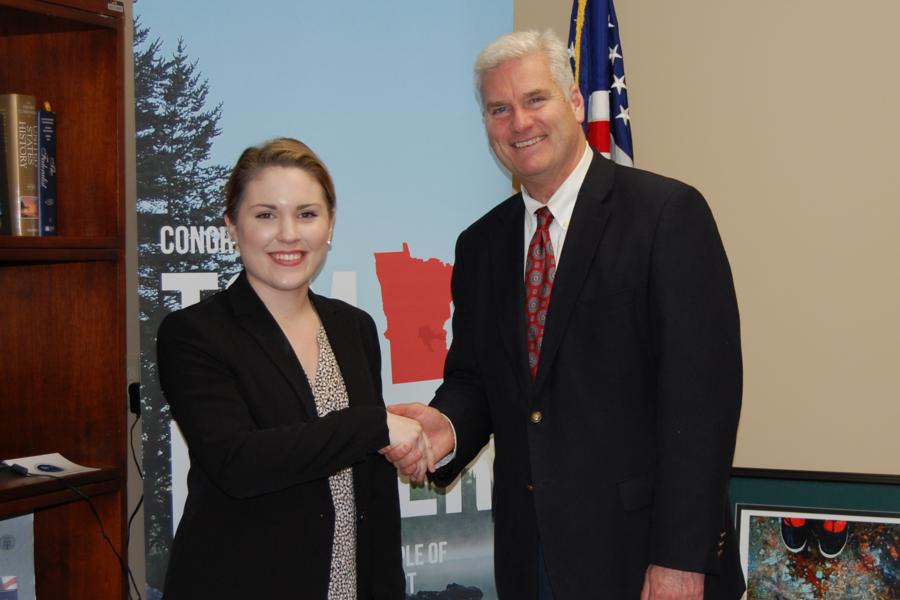 District Office
Internships in my District Office are available for college students or recent college graduates during the fall semester, spring semester and summer. Interns have the option to work full time for the typical 9 AM to 5 PM, or part-time to accommodate the student's classes. Students are able to gain valuable work experience working with my district staff.
District interns are an imperative part of my District Office in Otsego. Interns are assigned to a variety of tasks, including day-to-day office work such as answering phones, writing constituent letters, researching legislation, assisting with casework, and compiling press clips. The district internship provides students with the opportunity to see the impact that a congressional office has on the district as well as its constituents.