Community Project Funding: Anoka County
Highway 10 Strategic Congestion Mitigation: $25 million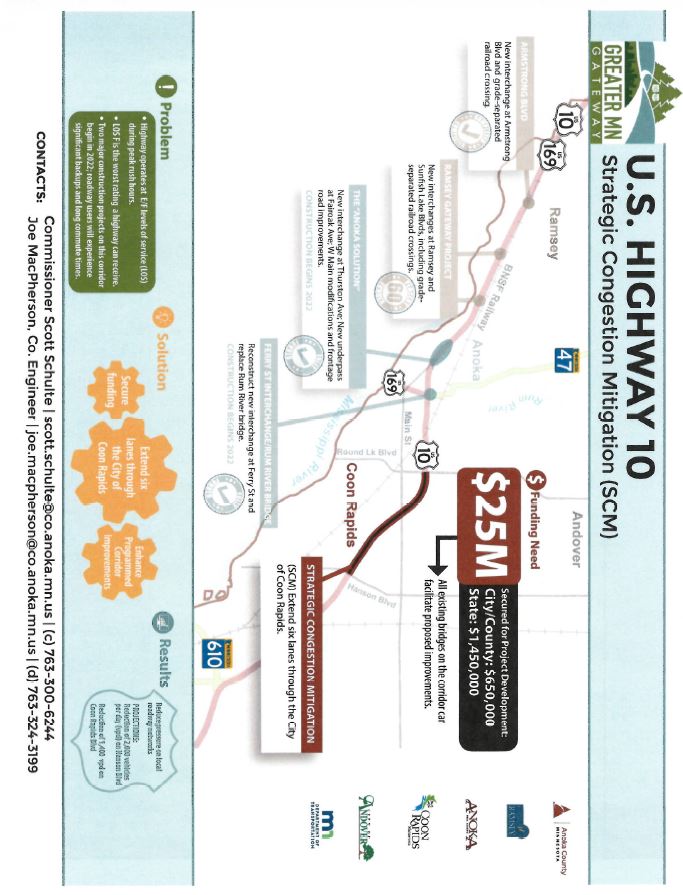 Project Summary:
This $25 Million request would help address Strategic Congestion Mitigation in Anoka County. This project would create one additional lane along U.S. Highway 10 to alleviate congestion, improve safety, and facilitate commercial growth.
Background:
The MnDOT study shows a total of 1,621 crashes on U.S. Highway 10 over the last decade.
In 2019, the Minnesota State House Transportation Committee held hearings on the Highway 10 improvement project and several businesses testified that they missed out on opportunity to expand or recruit new businesses due to the poor condition of Highway 10.
Recent studies indicate that during peak morning and evening rush hours, the highway operates at Levels of Service E and F for portions of the two-lane section of US Highway 10 in Coon Rapids.
Highway 10/169 is a Tier One freight corridor.
Project Support:
City of Coon Rapids – Jerry Koch; Mayor of Coon Rapids
City of Zimmerman – Randy Piasecki; City Administrator
City of Anoka – Greg Lee; City Manager of Anoka
City of Ramsey – John LeTourneau; Mayor of Ramsey
North Metro Mayor's Association – Mayor Jerry Koch (Coon Rapids), Mayor Ryan Karasek (Champlin), Mayor Kathi Hemken (New Hope)
Minnesota State House of Representative – Zach Stephenson; District 36A State Representative
Relevant Documents: