Washington, D.C. – Representative Tom Emmer (MN-06) was joined by Representatives Jim Hagedorn (MN-1), Angie Craig (MN-2), Dean Phillips (MN-3), Ilhan Omar (MN-5), Collin Peterson (MN-7), and Pete Stauber (MN-8) to honor the memory of three fallen Minnesota National Guardsmen who tragically lost their lives in a helicopter crash on December 5th, 2019.
Watch by clicking here.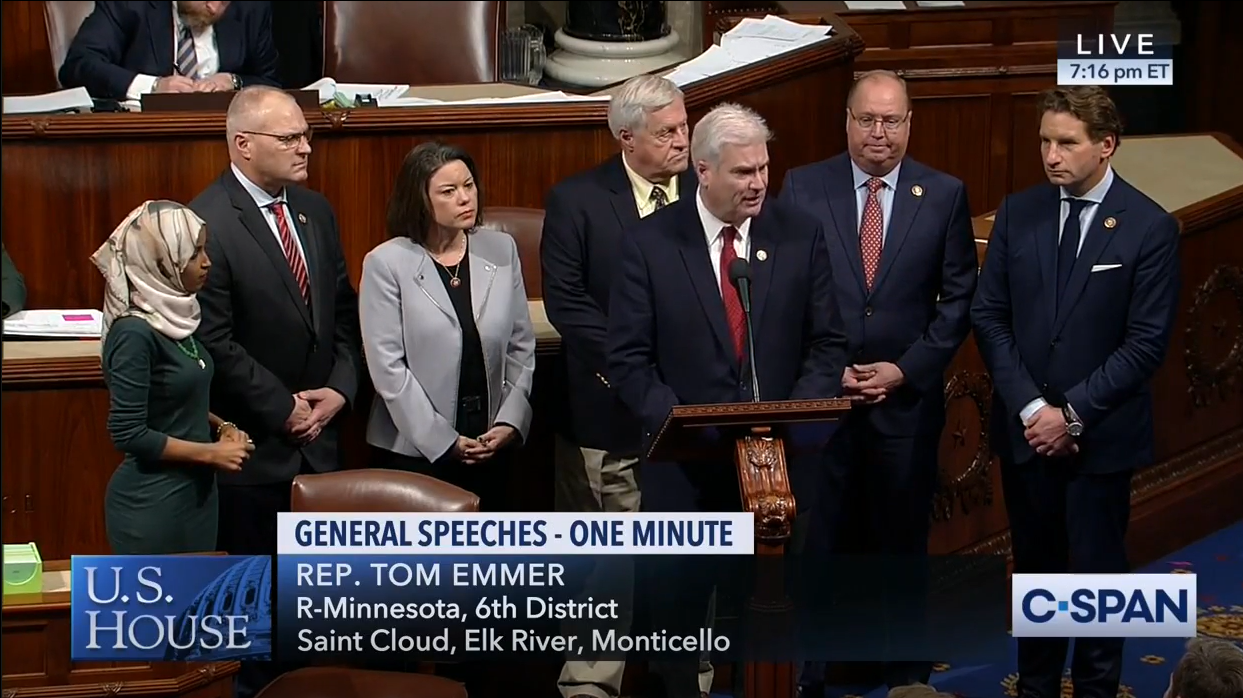 Full transcript:

"Madam Speaker,
On December 5th, Minnesotans learned of the disappearance of a Minnesota National Guard UH-60 Black Hawk helicopter carrying three National Guardsmen during a maintenance test flight. Unfortunately, this fateful flight – which originated from St. Cloud, Minnesota – saw the lives of Chief Warrant Officer 2 James A. Rogers Jr., Chief Warrant Officer 2 Charles P. Nord, Sgt. Kort M. Plantenberg tragically lost that day.

Today, my colleagues and I join together to honor the memories of these brave Minnesotans and send our deepest sympathies to their families and loved ones. Whether deployed overseas or training here at home, members of our Armed Forces routinely put their lives at risk to ensure the safety and security of our nation. We pray the families are able to find some peace and comfort during this tragic time, and that they know that their fellow Minnesotans and their nation mourn with them.

We are eternally grateful for your loved ones' sacrifice and service to our great state of Minnesota; their memories and legacies will never be forgotten. In honor of James A. Rogers Jr., Charles P. Nord, and Kort M. Plantenberg, I ask that all Members and guests in the gallery rise for a moment of silence to honor these heroes.

Thank you, Madam Speaker"
###