Community Project Funding: Carver County
Downtown Levee Project- $11 million
Project Summary: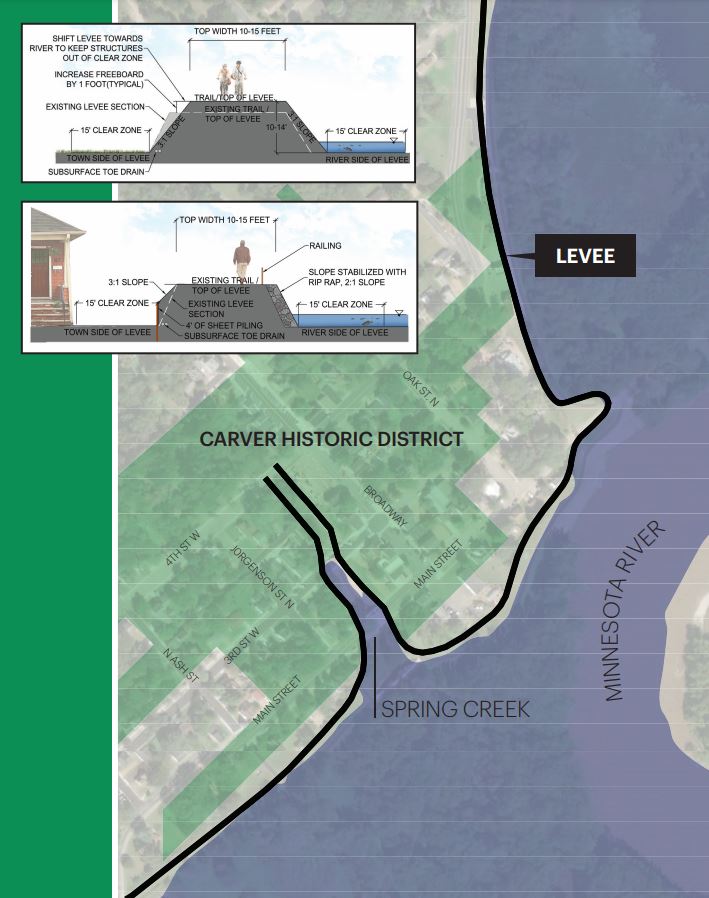 In 1965, following a series of destructive floods, the city built a levee to protect downtown Carver from future flooding of the Minnesota River. This
important piece of infrastructure has gone far past its designed lifespan. Over the last four years alone, the City of Carver has spent $1.5M attempting to maintain the outdated levee.
To prevent flood damages, the levee requires serious repairs and improvements. An improved levee would protect the city's overall economy and save 61 buildings. Furthermore, downtown Carver has historical significance. The city has 90 properties on the National Registry of Historic Places. A major flood would destroy an important part of the district's history.
Background:
The Minnesota River's flow has more than doubled over the past decade, leading to an increase in major flood events.
Over the last 10 years, there have been 22 major flood events along the Minnesota River.
It is estimated that the total loss value of a major flood event without the City of Carver's levee protection would be $14.8M.
Support:
City of Carver – Courtney Johnson; Mayor
Relevant Documents:
Request Address:
Courtney Johnson
Carver City Hall
316 Broadway
Carver, MN 55315